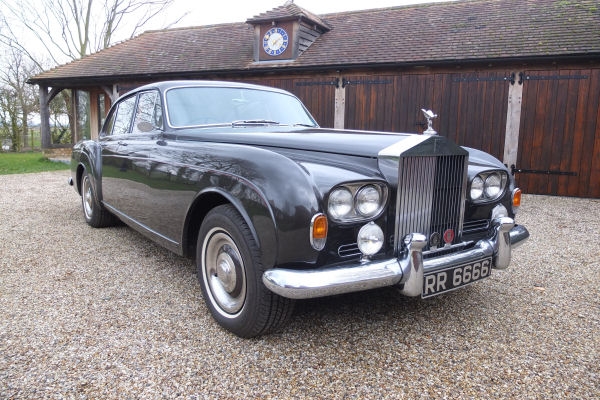 1965 Rolls-Royce Silver Cloud III Continental Flying Spur
With coachwork by HJ Mulliner. Chassis Number CSC3C. This beautiful Rolls-Royce is finished in Tudor Grey coachwork with beige leather upholstery, headlining and carpets. The interior is completely original and has a beautiful mellow feel to it. The exterior was re-painted some twelve years ago and shows no sign of fading or corrosion with good panel fit and door shuts. The chassis and underside of the car are quite exceptional and highly detailed to concours standard. This car has been maintained to the very highest standard and driving it is so good that you forget you are driving a classic car. This exceptional Silver Cloud III is supplied with original handbook, build sheets, history file and full tool kits both large and small. Private plate not included in sale. SOLD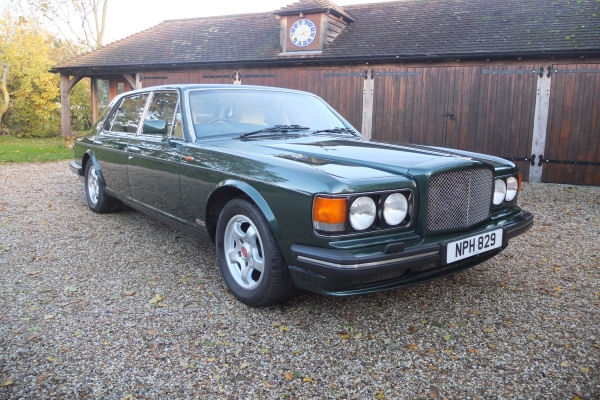 1990 Bentley Turbo RL
Finished in Balmoral green with magnolia leather trim piped in green. This is a fabulous Bentley which has had thousands of pounds of professional upgrades that include re-designed front head restraints, lockable compartment in centre console, chrome bezels to dash, self dipping interior mirror plus Aline Sat Nav - CD DVD multi media station. The interior has been re-trimmed in soft Canadian leather with dark green lambswool over rugs. With tinted glass and upgraded steering wheel. This beautiful Bentley is in very good condition and is supplied with full tool kit, owners handbook and full Bentley service history warranting its 73,000 miles. This is a very lovely example of a rather special Bentley. £12,750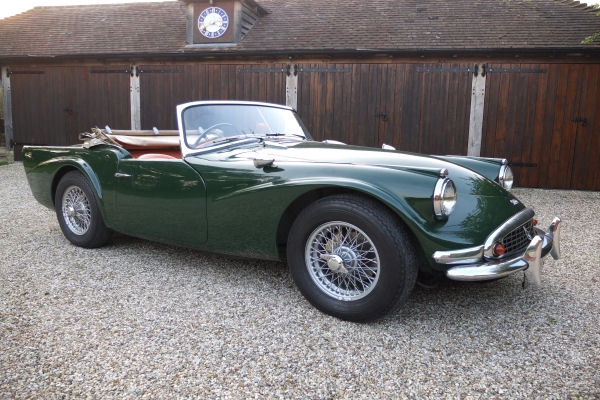 1960 Daimler Dart 250 V8
Finished in British racing green with tan leather upholstery and hood. This lovely Daimler has been the subject of a major restoration that included removal of body from chassis for chassis restoration and upgraded to B specification. Too many parts to list here but all are invoiced in history file. Total body restoration and re-paint to a high standard and complete interior trim replaced including new leather to the seats, dashboard and door panels plus new carpets and recent hood fitted. Engine re-built and all external components polished to show standards. Complete stainless steel exhaust and new tyres. This now represents a beautiful Daimler Dart that is fresh from restoration, nicely presented and driving well too. Supplied with history file and photos of restoration. Mot to April 2014. £27,750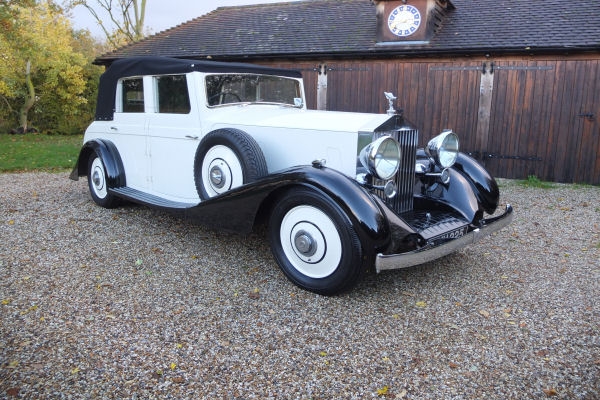 1938 Rolls-Royce 25/30
Chassis number GAR15. With all weather four door cabriolet coachwork. The original limousine body was removed from this Rolls-Royce and the bare chassis stripped and re-painted. A completely new Ash frame was constructed with all new aluminum body panels and wings with new hood frame and hood. The engine work includes crankshaft reground, new white metal bearings, new pistons, cam followers, front gear train bearings, water pump, dynamo, starter overhauled and an aluminum head fitted. Also fitted with a new stainless steel exhaust system and a new clutch. With new interior leather trim and carpets this unique motor car is now complete with an Mot to November 2014 plus historic tax. Viewing highly recommended. £57,750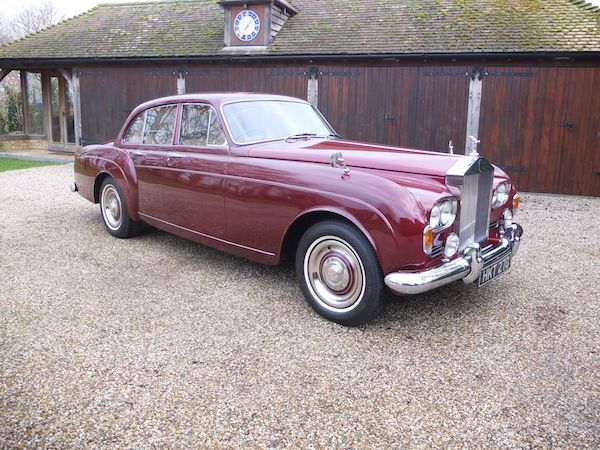 1962 Bentley Continental S2 Flying Spur
With coachwork by James Young. Finished in dark metallic grey with burgundy leather interior. This stylish motor car was built for the famous big band leader Edmundo Ross and was a familiar sight around the streets of London in the 1960's. In recent years considerable restoration has been undertaken that includes a complete body restoration and repaint plus the seats re-upholstered, new carpets and the interior woodwork restored. Most of the exterior chrome work re-plated and the underside of the car has been cleaned and wax oiled. The history file includes original factory build sheets, some older photographs of the car and restoration invoices in excess of £23,000. Complete with owners handbook plus V5C and Mot to June 2014. £69,750.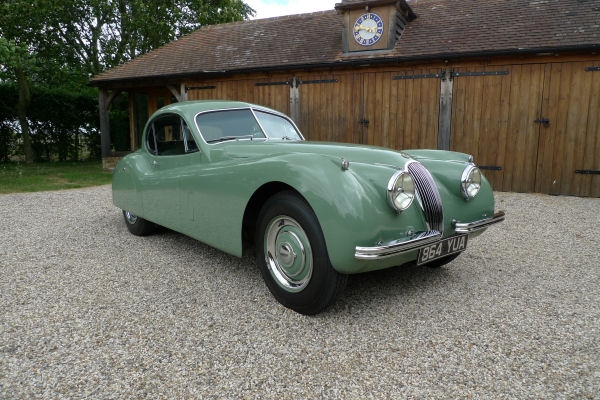 1954 Jaguar XK120 Fixed head Coupe - Left Hand Drive
This stunning XK120 is finished in suede green coachwork with untouched original suede green leather hide and carpets. Originally imported by US Jaguar concessionaires, Hornburg and sold to Dr G. Wells who lived in South Dakota, a keen motorist and known for taking great care of his vehicles. It is understood that he never drove this car in the winter months nor did the owner after him who kept the car covered in a heated garage and never drove it in the rain. An inspection of the body reveals flush door shut lines, even panel gaps and wings in straight original order. The interior is also original and in superb condition throughout. The engine is the original (engine no: 1742/8) making this a matching numbers car and with a mere 25,000 miles on the clock. The small tool roll kit and large tools are present plus original circular identification tags are hung with string inside the boot. Complete with a Jaguar Heritage certificate and full Mot. SOLD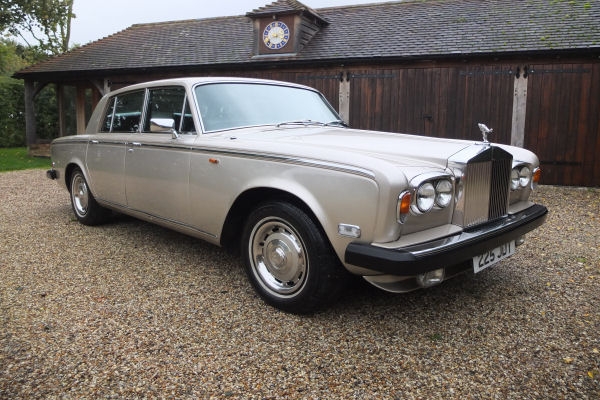 1977 Rolls-Royce Silver Shadow II
Finished in silver sand with dark brown leather interior trim. This is a nicely presented Silver Shadow with very good condition walnut dash and door cappings. The carpets, headlining and leather work are all in nice order. Fitted with all the usual refinements such as electric seats and windows, air conditioning etc. The bodywork is nice and straight with good bumpers, chrome and paintwork. The car stands nice and level and gives a very pleasant driving experience. In excess of £5,000 has been spent on servicing and maintenance during the last eighteen months. The car is supplied with an extensive service file, tool kits, owners handbook and complete with Tax and Mot. Private number plate included in the sale. £7,750.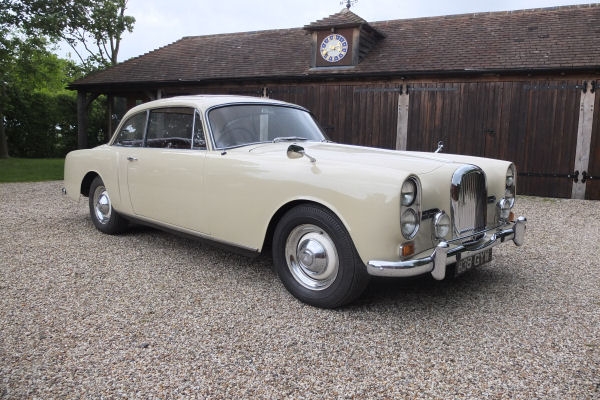 1964 Alvis TE21 ZF 5 Speed Manual
Finished in cream with burgundy leather interior trim. It is rare that a TE21 comes on to the market and even more rare when it is priced to sell. This one represents an unbelievably sound and solid example with a lovely original leather interior. The coachwork is very solid and there is no drop in the doors. The underside has had a lot of care and attention over the years and is in very good condition. Mechanically very good with a very quiet engine and smooth gearbox. The paint could be better so some attention is required. This represents a get in and go classic that you can improve at your leisure. Mot to June 2014. SOLD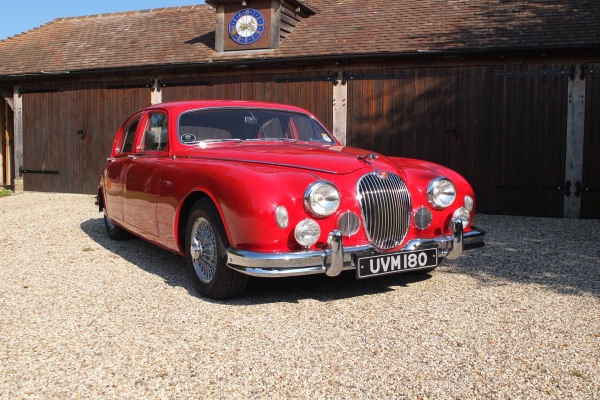 1957 Jaguar MKI 3.4 Litre
With overdrive and power steering. Chassis No.S970675D/N Engine No.KE31508. This beautiful example is finished in Jaguar Carmen Red with dark red leather upholstery and fitted with wire wheels and stainless steel exhaust. The bodywork was restored and re-painted eighteen years ago and is still in excellent condition as it has since had little use and always kept dry and garaged. All bright work has been rechromed and underneath is excellent having been wax oiled. Many original fitments include Bray Heater, Redex upper cylinder, rear window demister fan, period radio plus complete tool kit. Complete with tax discs dating back to 1960 and Mot certificates from 1973 this lovely MKI is fabulous throughout and viewing is highly recommended. Historic tax plus Mot to May 2014. £19,750.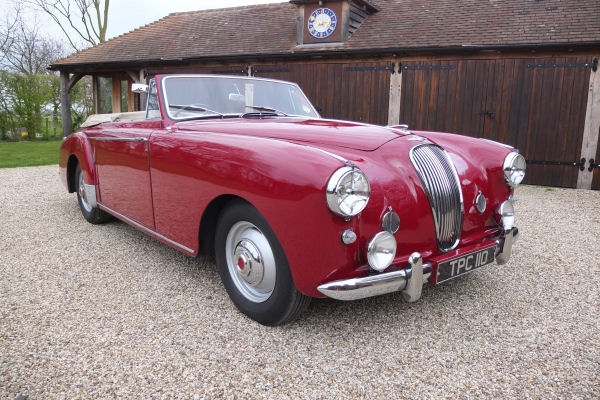 1953 Lagonda Three Litre DHC
Three position by Tickford. Finished in burgundy coachwork with parchment upholstery and hood. This lovely and rare Lagonda is in very good order throughout. The three position hood is a very useful feature for the British climate allowing it to be used for all weather touring. The three litre engine and original floor change 4 speed gearbox make this a very nice car to drive. The coachwork is nice and straight and the doors close with a railway carriage 'clunk'. Interior woodwork is in nice condition as is the upholstery and carpets. The hood is very easy to raise and lower swiftly. This is a very usable car that would be good for long distant touring in true British style. It is not often that these Lagondas come onto the market. Supplied with owners handbook, history file and old buff log book. Mot to February 2014. RESERVED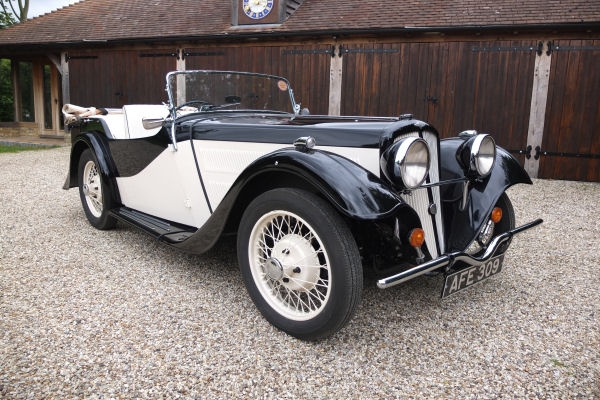 1937/38 BSA Scout MK4
Four Seater Tourer. Once owned by the famous big band leader "Billy Cotton". This rare BSA has been hidden away for the last thirty years and has undergone a slow, but very thorough, ground up restoration to a high standard. Finished in black with cream side panels and both new cream hood-side screens and new cream interior. This car is now ready for its new owner to benefit from someone else's hard work, as all mechanics are re-built, as is the suspension etc. This now represents a very well sorted car which is supplied with its original owner's handbook and history file. Viewing is highly recommended. SOLD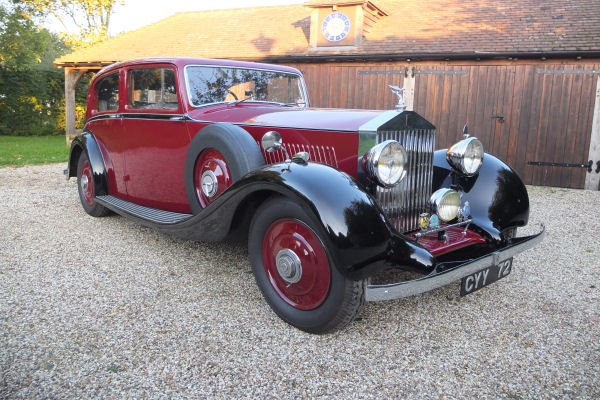 1936 Rolls-Royce 25/30 Sports Saloon
by Park Ward. Chassis Number GLT28. This desirable small coachwork Rolls-Royce is finished in black and burgundy with grey leather interior trim and grey headlining and carpets. This motor car has received extensive restoration in the last couple of years that includes re-building of the running boards, some Ash framework, a body restoration and complete re-upholster in new leather plus new carpets. All wiring has been checked and replaced where necessary. New exhaust and tyres fitted. Cylinder head removed and checked. This now represents a nice driving car with all the hard work done. Historic tax and full 12 months Mot. SOLD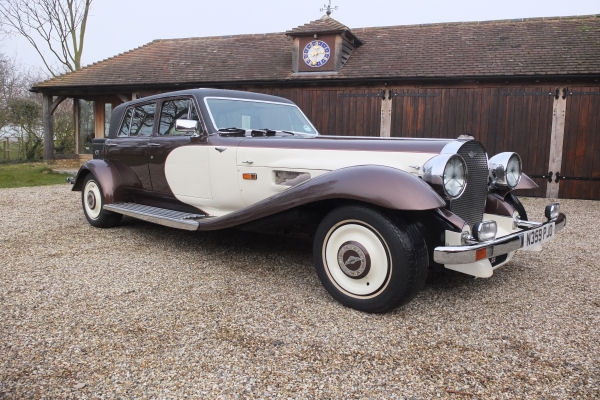 1976 Panther DeVille V12
Left hand drive. Finished in bronze with cream side panels and a black everflex roof. The DeVille offers 1930's styling with modern engineering that includes power steering, automatic gearbox, modern braking system, Jaguar V12 engine plus air-conditioning and electric windows and sunroof making this a very easy car to drive and service. Delivered new in 1976 to Beverley Hills the first owner is believed to be Don Johnson. It was then purchased by a stunt man filming in Hollywood who imported the car to Europe. Ten years ago is was bought by the current owner and it has lived in England ever since. It has undergone extensive mechanical restoration to the engine, gearbox, brakes and electrical system. All work carried out by Jaguar specialists JD Classics with invoices totaling £60,000. Supplied with Panther gold portfolio book and the original cronoswiss Panther watch still in its gift box and never used. Taxed and Mot. SOLD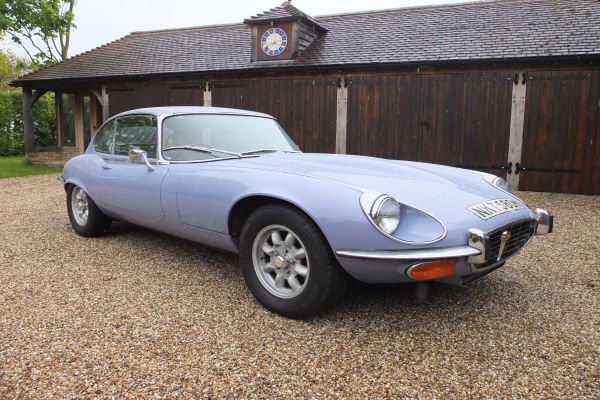 1973 Jaguar Series 3 V12 E Type
2+2 Coupe. This is an original un-restored one owner from new E-Type with documented 16,900 miles. The condition can only be described as beautifully original and not messed about with. Sitting in this car gives you a feel of just how they were when they left the factory and driving it is an absolute pleasure. The bodywork is finished in its original colour of lavender with biscuit leather interior trim and carpets. The mechanical condition is very good with a silky smooth 5.3 V12 engine and quiet auto gear box. The car is supplied with service book stamped up to 16,289 miles plus many service invoices and Mot's. Also supplied with original bill of sale, workshop manual, owners handbook, wiring diagram and maintenance wall chart plus tool kit. Current Mot to May 2014. Viewing highly recommended. SOLD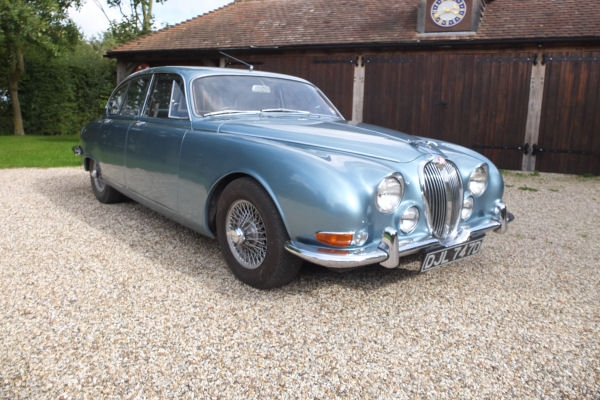 1966 Jaguar S Type 3.8 Manual
with overdrive and power steering. Finished in light metallic blue with grey leather interior trim. A new cloth headlining has recently been fitted. The bodywork was repainted about four years ago and is in very good order. Front and rear bumpers re-chromed and new wire-wheels and spinners fitted. The underside of the car is in very good condition. The 3.8 litre engine is very lively and with a smooth gear box and responsive brakes that makes this a very nice car to drive and capable of keeping up with modern traffic. Enthusiastically maintained by its present owner this S Type Jaguar would make a very good classic daily transport and is supplied with tool kit, Mot and historic tax. £9,750.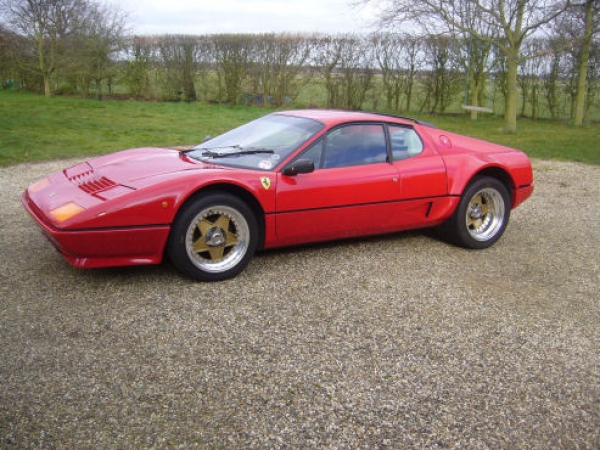 1980 Ferrari Boxer 512 BB LM Conversion
Rosso Chiaro with black hide. Black carpets. 5 litre 12 cylinder 465 bhp engine upgrade. Purchased by musician Chris Rea from Nigel Mansell Sports Cars of Dorset. Nigel Hudson undertook the upgrade of the car to the current specification. Featured in 'Ferrari Legends' book. 1 of 3 built. With its extensive history (the sun visors are signed by both Chris Rea and Nigel Mansell) this is a unique Ferrari and not to be missed. SOLD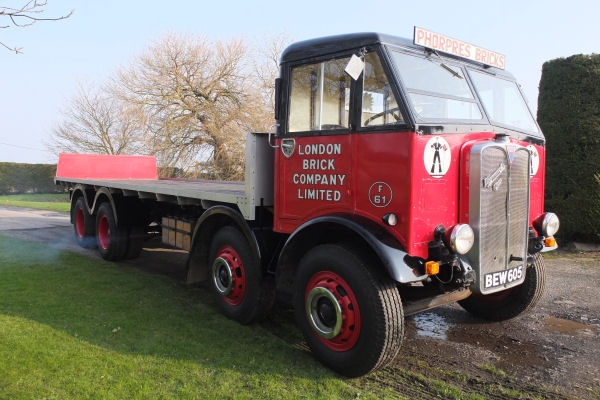 1939 AEC Mammoth Major
8 wheeler with aluminum cab and body by the famous Duramin commercial vehicle company. This fabulous AEC was supplied new to the London Brick Company Ltd. It was requisitioned by the Army to help with transporting ammunition to Dover docks during WWII. After the war this lorry settled down to a quieter life until falling into disrepair. During the 1970's she was totally restored to a very high standard retaining all original features including original batteries that cleverly contain modern ones hidden inside. Still in her original livery of the London Brick Company and in 2008 was the subject of a major article in Classic and Vintage Commercials which tells the story of her life. This lovely AEC is in excellent condition and comes from long ownership. £15,750.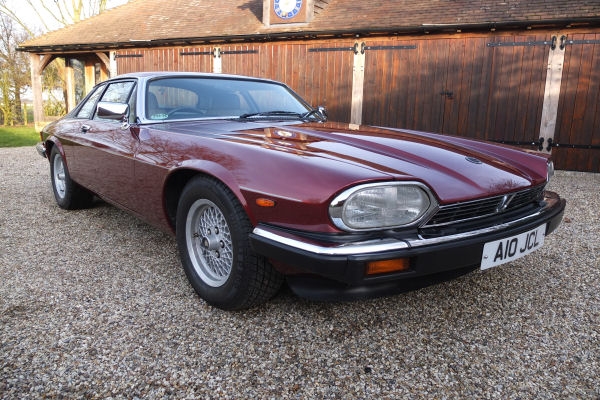 1990 Jaguar XJS 3.6 Auto
This beautiful example has covered only 42,000 miles with two owners from new. Finished in metallic burgundy bodywork with parchment leather interior trim piped in burgundy plus burgundy carpets. The bodywork is completely original with only minor attention required to make it perfect. This car feels like and drives like new. It is plain to see that it has spent all its life garaged as all the window rubbers and trim are as new. This is a rare example and should go to a good home that will retain its originality. Supplied with full small and large tool kits plus service history to warrant the mileage. Mot to March 2014. SOLD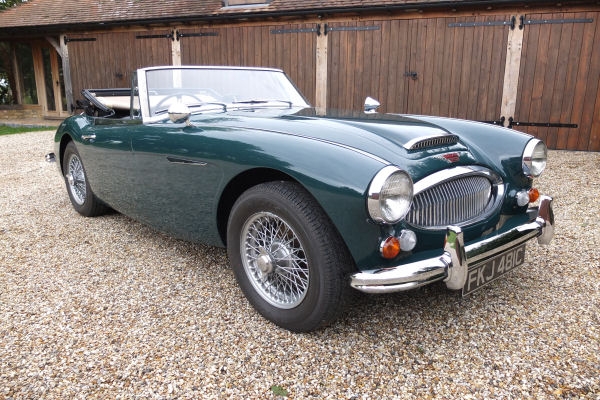 1965 Austin Healey 3000 MKIII Phase 2
Finished in British Racing Green with a brand new black hood, black interior trim and matching carpets. This is the first time that this car has been offered on the open market for thirty years. It has just undergone a sympathetic body restoration and re-paint to a high standard on a good original car. The interior trim has new front seat coverings and new door cards plus new carpets. New exterior chrome parts include bumpers and over-riders, boot hinges and boot lettering. The engine, carbs, gear box and diff have all been overhauled plus new shock absorbers. This now represents a good investment opportunity of the most desirable model of all three litre Austin Healeys and is presented with a nicely detailed engine bay. Mot to August 2013 plus historic tax. SOLD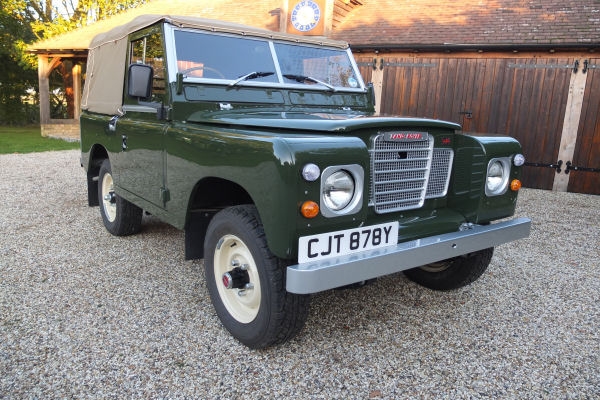 1983 Land Rover Series 3 SWB 2.25 Petrol
This vehicle has been completely stripped and totally rebuilt by professionals using latest techniques and products and painted to the original Land Rover Bronze Green. Every piece of this Land Rover has been taken apart and either refurbished of replaced with new to an exceptional standard. Some of the new features include new galvanised chassis, suspension including leaf springs and shccks plus completely re-wired with new loom. New panels include tailgate and chains, sill panels, door tops, refurbished bulk head, tub floor plus wheels restored to original limestone beige. This Land Rover has to be seen to be believed. The owner of this stunning Land Rover set out to build the ultimate original specification Land Rover and there is no doubt he has succeeded. Tax and Mot to May 2013. SOLD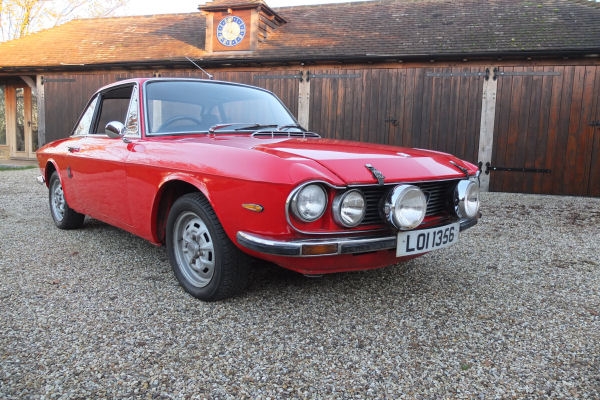 1976 Lancia Fulvia S3 Coupe
Finished in red paintwork with black interior trim. This sporty little Italian coupe has had much work carried out in recent years with photos of restoration and invoices on file. In good sound order throughout and great to drive. Supplied with owners handbook and workshop manual. Tax and Mot until September 2013. £8,750